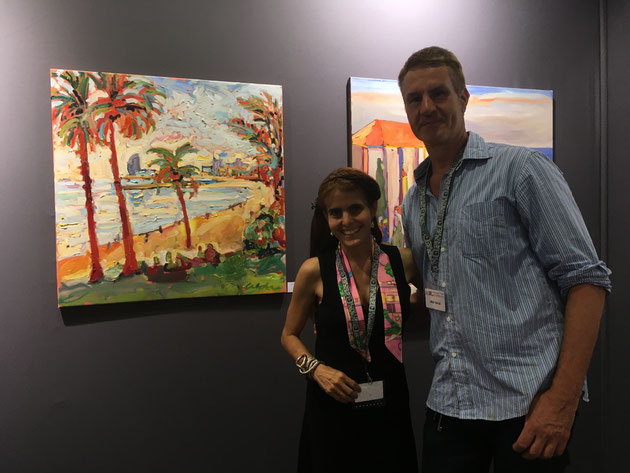 ---
ALDER & BRONSTEIN, ARTISTS TRAVELING TO CANNES
 Rosalía Bronstein Martínez was born on June 25 in Caracas. We won't mention the year of birth because it might be rude to say so. Announcer with an official certificate from the Central University of Venezuela, she also studied Performing Arts at the Juana Sujo High School, the National Theater Company and the acting group '80. She lived in Europe for a long period, where she continued her career in art. After a brief perenthesis in Venezuela, perhaps because of the disordered revolution that some are trying to orchestrate there, she has returned to Barcelona, where she lives next to the sea, in Barceloneta. She went back to Venezuela with the theater company she founded in Catalonia. They were invited to two international theater festivals, even they do not know why,  but since then they have stayed in Venezuela.
 In 2012 she began to work in photography, developing as a her main theme women who she met on the street, fortuitously, walking in their daily lives. Among her chosen characters there are also actresses and dancers who belong to her professional artistic background.
She hosts.Individual and collective exhibitions in Barcelona and New York. 
The series presented in Cannes is based on a reinterpretation of the female image (nude, as always!) based on subjects related to Surrealism; objects found on the beach become feminine ornaments, mirrors that absorb the body…And, worth mentioning, always working with reality. That means the images are never artificially manipulated.
The obsessive presence of the sea and the body of the woman are traced in what reminds to be Dalinian sketches of his time in New York, where a film master like Hitchcock used his talent. Also to Walt Disney in an animated film for adults, recently recovered. We hope that these black and white images will impress the audience as much as who is  writting, and that they will open the doors of artistic recognition.
Bernd Alder is a Swiss plastic artist, French expression, who has tried to find throughout his long and successful career the way to transport Mediterranean light to his canvases. For this he has followed the example of French impressionist artists settling for many years on the French Riviera (Montpellier). He fell in love with the same Provence light that seduced Matisse, Picasso, Léger, where great history of museums have been honoring all of them: Picasso (Antibes - Vallauris), Matisse and Chagall (Niça), Leger (Biot). Only Ceret, however, - with the Museum of Modern Art, already in French Catalonia - offers us a global discourse linked to the emergence of the Avant-garde in France, given the fact that several waves of artists resided and there are even lived there for many years. 
Alder has wanted to mix his artistic experience in this territory with the inspiration of the artists he adores.
His way of approaching the landscape seduces us by its historical approach that goes beyond the artists of the twentieth century. From Cézanne and his last period, where he repeated incessantly landscapes of his beloved city Aix-en-Provence, to the Saint Victoire mountain to the surrounding forests. Alder's brushstroke is more similar to the compositional brushstroke of these works than to the avant-garde interpretations that descendants of Cézanne explored. He has recently changed this territories for Barcelona, a maritime city that approaches to an experience of the sea in a unbeatable way.  He uses the plein air technique without blushing, transferring - as an artistic performance - all the elements of the trade, from the paintbrushes to the painting and colored tubes, in his robust Swiss shepherd physicist.
     We believe that the search for light in his new adoptive city will bring him new
        topics of analysis and interpretation. Lately female portraits have been increasing his
        interest, new trends that will surely satisfy his large group of international collectors.
   Both are traveling together in this pilgrimage to Cannes Festival to offer these new 
      productions, based on the nude reinterpreted again under the surrealist tradition, or
      the urban representation of a city barely discovered, to expand its audience. Any well-
      intentioned comment, the best one is the one that leads to the acquisition of the work,
      will be well received and -naturally- very appreciated.
JOAN ABELLÓ
Art critic and historian, independent curator of exhibitions.